COVID Isolation - Home Learning Activities
Dear Parents & Carers
Each week i will be posting work for you and your child to complete at home. There will be links to our weekly story and videos to help you and your child.
There are many online resources that the school has subscribed to, you will find the logins and passwords in your child's home reading record.
Bug Club - school code - mhhc - password (in your child's reading record)
5 a day - mge177 - password P0xOhRaN
Espresso - student 20709 - password Mission 2020
Charanga (music website) - in your child's reading record
Phonics
Practices writing the sounds, on our phonics page under the learning tab. Try using these sounds to write words:
How many more can you make? Send these into your class teacher.
Our story this week is Little Red Riding Hood.
Introduce the story of Little Red Riding Hood.
What's in your shopping basket? Draw pictures and write labels/list of what you will have. Role play the story of little red riding hood – what is she feeling? How is grandma feeling?
Use the story map above to help your child retell the story.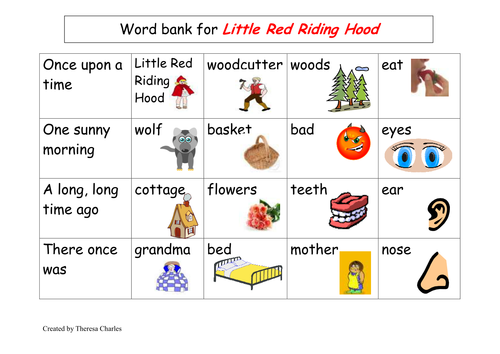 Use this word bank above to encourage your child to retell the story using full sentences, they can even have a go at writing simple sentences.
Make your own story map, and encourage your child to change the end of the story or add additional or different characters.
Make your own cottage for grandma, hole punch around the edges and thread.
Maths - This week we are looking at addition.
Please watch the short clips below. You can help your child with addition using these. I have also attached some lego addition below, however it is better to use objects that you find around the home and make the activites practical and fun.
https://www.youtube.com/watch?v=sqRmidn9i7c
https://www.youtube.com/watch?v=Ecknvlve-Kw
https://www.google.com/search?q=Addition+learning+eyfs+videos&rlz=1C1GCEB_enGB904GB904&oq=Addition+learning+eyfs+videos&aqs=chrome..69i57.17566j0j15&sourceid=chrome&ie=UTF-8#kpvalbx=_q9W8X8_iFpT4gQb6iKiICA24
Continue counting activities and make sure that you revisit sizing activities, shape and pattern activities.
https://www.youtube.com/watch?v=Du6JHupzwVo
https://www.youtube.com/watch?v=D3b-kcK3Eg8
https://classroom.thenational.academy/lessons/counting-up-to-10-objects-reliably-ccw32e
Understanding of the World
You can go on an Autumn walk to look at the seasonal changes all around you. You can make your own Autumn page about the things that you have seen on your walk.
Wildlife Gardening
A simple twig pile in an undisturbed corner of the garden or a rotting tree trunk is enough to attract a range of wildlife to your outdoor space. It can be a true delight for your child to observe how different insects and invertebrates find shelter, feed, and collaborate.
Making Movies
At this age, many children are already quite competent with technology, so instead of simply presenting how something works, give them the chance to get some hands-on experience with technology and encourage them to make their own movie!
Dark Nook
Is there an empty corner in? It could be a perfect spot to experiment with simple technology such as lights and music players! Start by putting a few chairs in a circle and covering them with a blanket to create a fort. Put some small lamps with colourful bulbs, flashlights and a CD player inside and let the little ones explore the game of light and shadows in an ambient atmosphere.
Expressive Art & Design
Take a walk to your local park and collect different coloured leaves, pinecones, acorns, conkers, twigs and sticks. At this time of year there's a huge range of interesting colours and textures to find.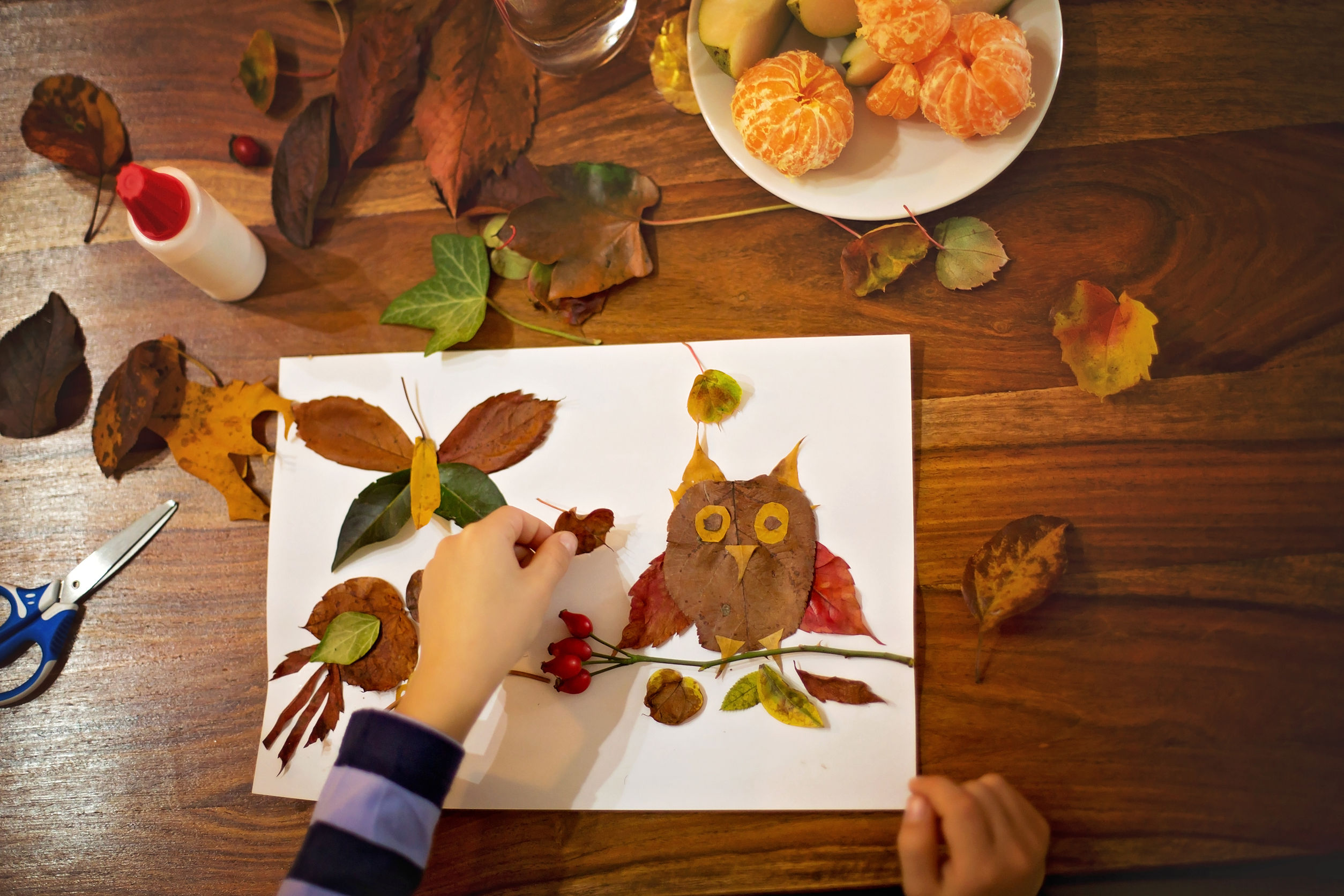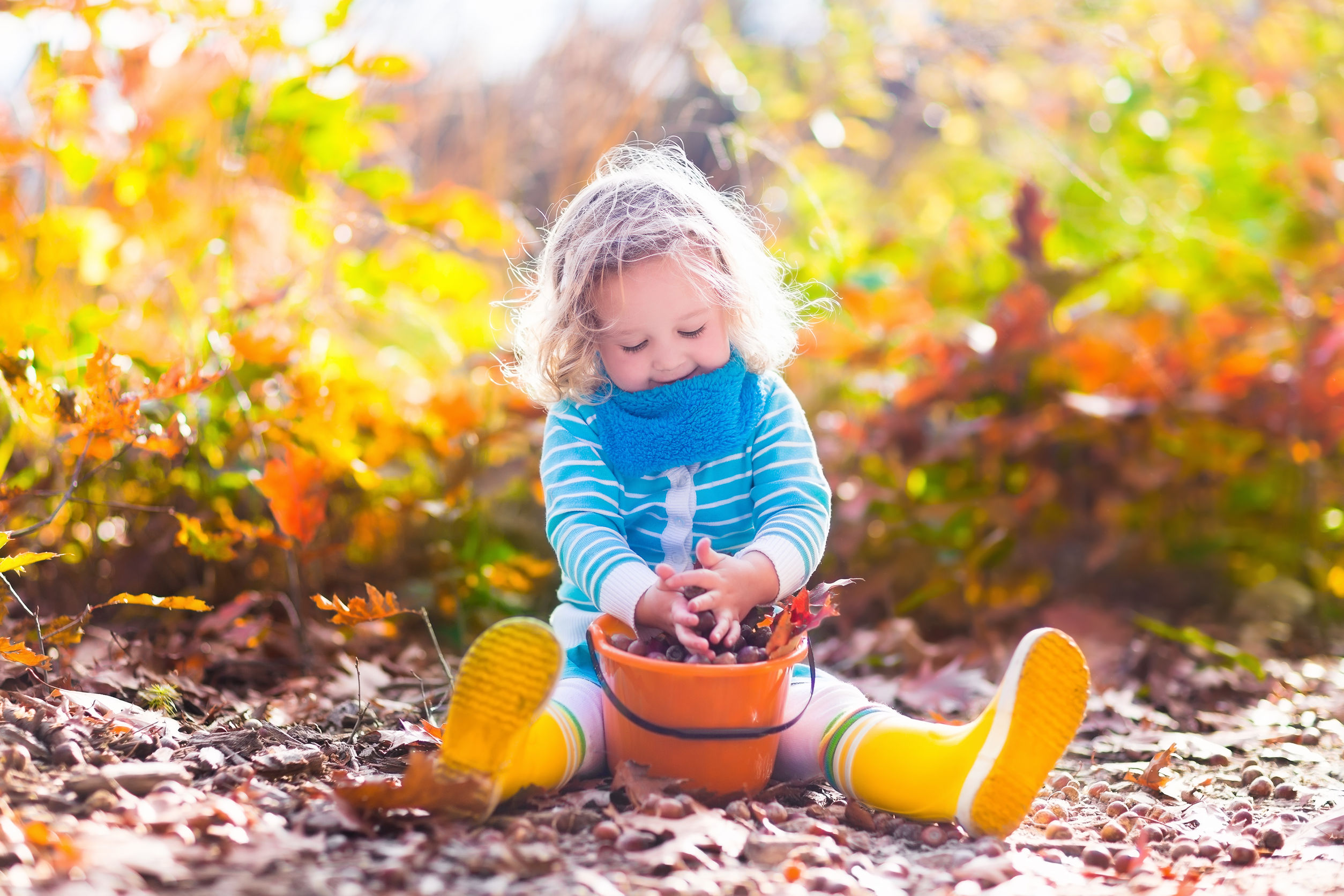 Collect lots of leaves, in as many different colours as you can find (this may work well as a cumulative project involving several trips). Back inside, set up a long section of rolled-out paper and help the children sort and stick the leaves onto it by gradations of colour; so for example, starting with all of the dark red leaves at one end of the paper roll, moving onto bright reds, then oranges, yellows, greens etc.
3D trees
Start by painting some short sections of cardboard tube brown – these are the tree trunks. Get some green card and cut out tree canopy shapes (a bit like clouds). Put out some bowls of autumnal colours – eg red, orange, yellow, green, purple, brown, gold – for the children to use to make thumbprints on both sides of their pieces of green card. Cut some short slots into the trunk tops and slide the canopies on.
Conker rolling
For this project you'll need A3 paper, conkers, and paint in a range of autumnal colours. Get the children to dunk a conker in some paint and roll it over the paper (they may need some help with this); build up layers using different colours.
Autumnal pinecones
Collect some pinecones with the children, and then decorate them. You could push small pompoms (red, green, yellow, orange) into the crevices, or wind pieces of wool (in the same kind of colours) around them.
The Department for Education has produced an incredible resource - "The Oak Academy" for families to use to support their child's home learning and we thoroughly recommend that families utilise this resources, which can be accessed here.