Year 3
Bonjour Year 3!
You can complete the end of year 3 Kahoot quiz here: https://kahoot.it/challenge/08468961?challenge-id=8f19daeb-efc9-49f5-b3f1-a4d37d490e48_1626793197315 by entering the Game PIN: 08468961.
Bonne chance! Good luck!
--------------------------------------------------------------------
In Year 3 children will start learning the French phonics to help them improve their pronunciation and spelling skills. They will learn some of the phonics within topics and should have covered all the 26 sounds and their spelling by the end of year 6.

You can find here what we do each term and some example of work:
Online lessons during Covid19 lock down:
Lesson 1: La galette des rois / The king cake.
Learn how we celebrate the Epiphany in France. Watch the video here and find the worksheet to complete attached at the bottom of this page.
Lesson 2 : Le corps/ The body.
Learn 12 phonics and 8 parts of the body.
Lesson 3: Le corps/ The body.
Learn how to spell the phonics and parts or the body we did in the previous lesson.
You can find the song we did in the lesson here.
Enter the quiz challenge about naming the parts of the face here and get some house points if you top the leader board!
Lesson 4: Le corps/ The body part 3
In this lesson we will learn 3 more phonics and 5 more parts of the body. You can find the worksheet attached at the bottom of the page and the song is here.
We will be revising some basic greetings, the colours, numbers to 12, how to express our feelings and ask someone 'how are you'.
In this topic we learn how to describe our height, eyes and hair colour.
Some pictures will be up soon :)
We learn a full range of greetings to make a comic in French.
You can revise greetings with some French football players and sing along here: https://www.bbc.co.uk/teach/supermovers/ks1--ks2-mfl-french-greetings-with-ben-shires/zdpdvk7
You can do the quiz again here: https://wordwall.net/play/173/245/559
Parts of the body and introduction to some phonics.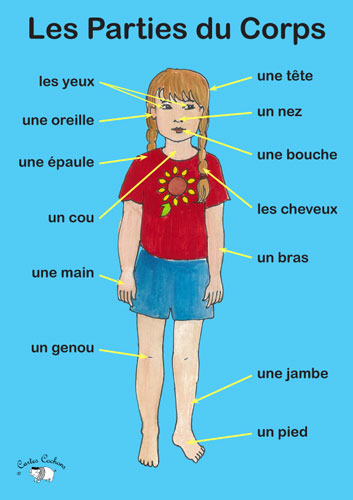 These are the songs that we have learned in class:
And a great video by Senna in Magpie: